SEGRO Park Düsseldorf Süd
New and sustainable light industrial space close to Düsseldorf city centre
SEGRO Park Düsseldorf Süd, located close to the city centre, is a successful revitalization of industrial areas in several expansion phases on the site of the former Feldmühle paper mill, later Stora Enso. The flexible and small-scale rental units enable our customers to grow flexibly at the location: Adjacent units can be easily combined to form larger areas if they are available.

The new office and warehouse space was created according to modern standards for sustainable, ecological and energy-conscious building. For example, we used wood from the region for the laminated beams in the warehouses in order to work on our CO2 balance. The LED lighting is controlled by modern motion detectors and we attached great importance to having a lot of natural daylight. Together with seating in the green, this contributes to an increased well-being of our customers in their work environment. A healthy ecosystem is also important to us. Therefore, we have set up beehives, insect hotels and nesting caves for domestic birds in our park.

The area is located directly on the Rhine, between the Reisholzer Hafen, the industrial area in the south of Düsseldorf and the Benrath Residence, known for its historic palace and park, and is optimally connected to the city centre, the motorway network and Düsseldorf Airport.
Specifications
Warehouse height: 6.50 m clear height
Roof: Sheet insulated roof with 200 mm insulation
according to valid ENEV
Windows: aluminium windows with double glazing
Gates: ground-floor sectional doors (approx. W 3.00 m x H 4.30 m), combined with loading ramps
Warehouse floor: steel fiber-reinforced concrete slab,
with abrasion-resistant surface
Area load: 50 kN / m² (≈ 5 t); Point load: 30 kN
(≈ 3 t) per shelf handle with a footplate of 12 x 12 cm;
Max. total weight of industrial trucks: 31 kN (≈ 3.1 t),
flatness according to DIN 18202, Table 3, line 3
Heating (gas): designed for room temperatures
up to 17 °C (warehouse) / 20 °C (office / social)
Service area: window bands suitable for permanent
workplaces, linear lighting
Green electricity through photovoltaic system
Green infrastructure: charging stations for electric vehicles
Biodiversity: Beehives, bird nesting holes and insect hotels
Aiming for DGNB Gold
Site Plan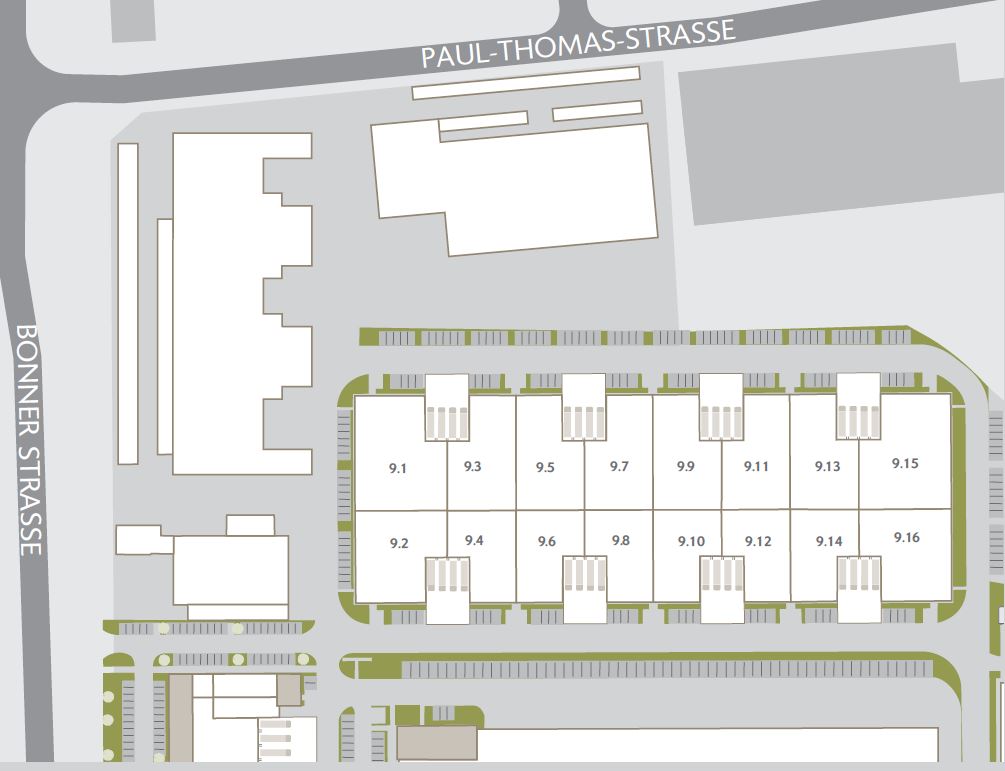 Contact