Sustainably revitalised light industrial space in the heart of Cologne
SEGRO Park Cologne City is the perfect example of a successful revitalization of a traditional location and the integration of modern commercial architecture in an urban environment. 
The former Akzo Nobel site has been gradually expanded over the past few years and converted into a state-of-the-art, inner-city business park, while retaining historical building elements. The first buildings are fully let and offer a broad mix of tenants - from an innovative bakery to a showroom for lifestyle accessories. 
The park is based on modern standards for sustainable, ecological and energy-conscious building. We use wood from the region for the laminated wood beams in the warehouse, the LED lighting is controlled by modern motion detectors and we attach great importance to natural daylight. Together with seating possibilities in the green, this contributes to an increased well-being of our tenants in their work environment. Also a healthy ecosystem is important to us. Therefore, in addition to beehives, there are set up insect hotels and nesting holes for native birds as well in the park. 
SEGRO Park Cologne City is centrally located in Cologne-Bickendorf and is directly adjacent to the trendy district of Ehrenfeld. Motorways A 1, A 4 and A 57 and thus the connection to the entire Cologne area can be reached within a few minutes. 
Specification
Warehouse height: 6,50 m clear height
Roof: Sheet insulated roof with 200 mm insulation according to valid EnEV
Windows: plastic windows with double glazing 
Gates: ground-floor sectional doors (approx. W 3.00 m x H 4.30 m), combined with loading ramps
Warehouse floor: steel fiber-reinforced concrete slab, with abrasion-resistant surface
Area load: 50 kN / m² (≈ 5 t);
Point load: 30 kN (≈ 3 t) per shelf handle with a footplate of 12 x 12cm; Max. total weight of industrial trucks: 31 kN (≈ 3.1 t). 
Flatness according to DIN 18202, Table 3, line 3 
Heating (gas): Designed for room temperatures up to 17 ° C (hall) / 20 ° C (office / social)
Service area: window bands suitable for permanent workplaces, linear lighting
Green infrastructure: charging stations for electric vehicles
Biodiversity: Beehives, bird nesting holes and insect hotels
Wellbeing: seating areas in green surroundings
DGNB Gold certified
Site Plan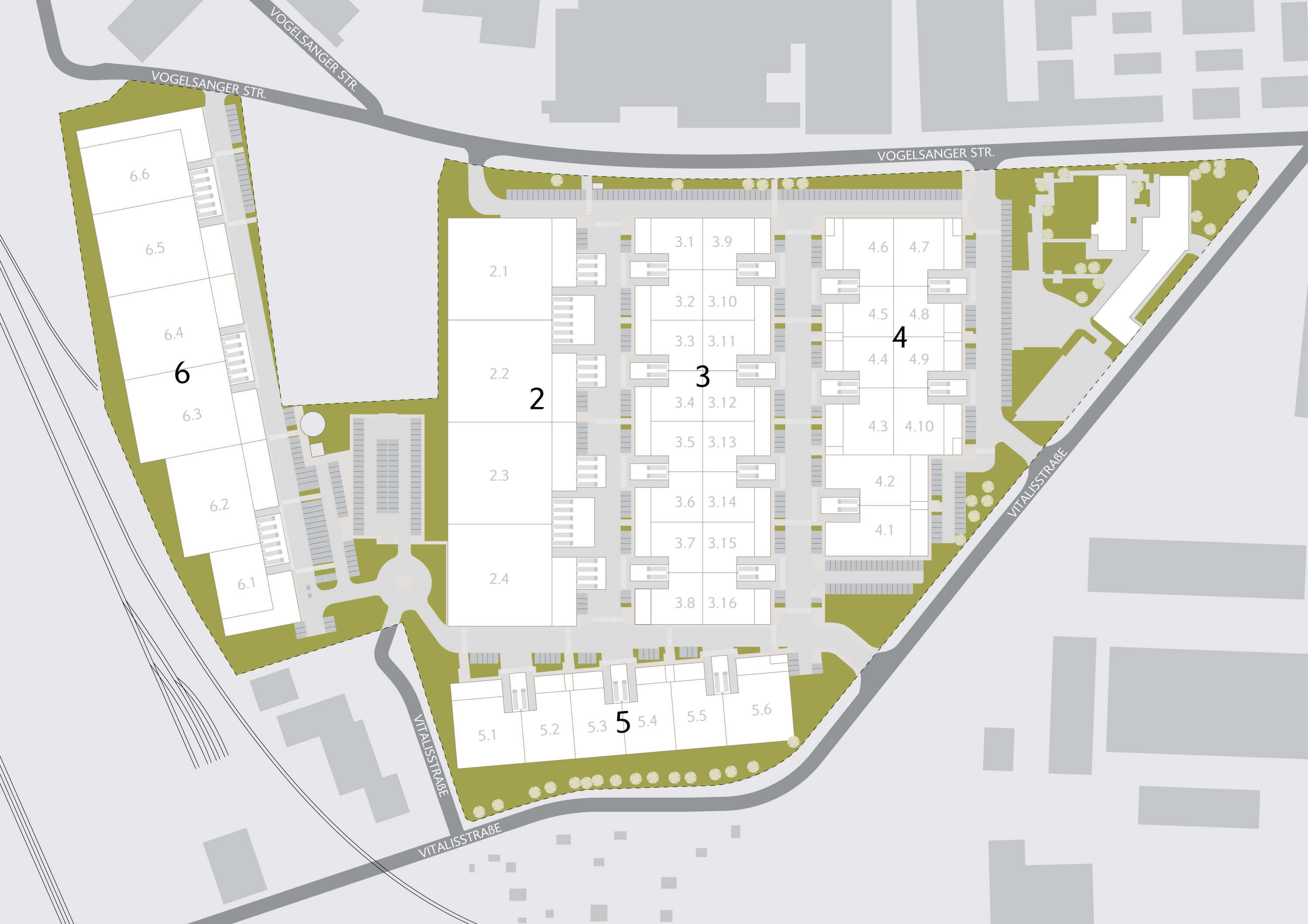 Contact