SEGRO Park Frankfurt City
Flexible light industrial units in urban surroundings
SEGRO Park Frankfurt City integrates perfectly in its inner-city environment thanks to its modern architectural design and high-quality construction. The former US military site was successfully converted into a state-of-the-art light industrial park. The first areas are fully let and the medium-sized tenant structure benefits across all industries from the great flexibility of the park.
Phase three has been built according to modern standards for sustainable, ecological and energy-conscious building. We used wood from the region for the beams in the warehouses, LED lighting is controlled by modern motion detectors and we place great value on a lot of natural daylight. Together with seating in the green, this contributes to an increased well-being of our tenants in their work environment. The small-scale rental units from 1,000 square meters can be rented individually or together and enable our tenants to grow flexibly at the location.
A healthy ecosystem is also important to us. In the park are beehives settled as well insect hotels and nesting holes for native birds installed. Right next to that area is a 2.5 hectare meadow landscape, which we renatured in 2019 and handed it back to the city of Frankfurt am Main.
SEGRO CityPark Frankfurt is centrally located in the trendy Rödelheim district and has an optimal transport infrastructure: several suburban train lines operate here and motorways A 5 and A 66 can be reached quickly via the junction Frankfurt-Rödelheim (A 648). Frankfurt airport is also only a few minutes drive away.
Specifications
Warehouse height: 6.5 m clear height
Roof: Sheet insulated roof
Windows: Double glazed windows (solar glass). Entrance and stairwell glazing with aluminium construction.
Warehouse floor: Reinforced concrete floor with joint-free hard aggregate spread. Designed for maximum permitted forklift loads of 50 kN (≈5 t) overall weight and concentrated loads of racking posts of 30 kN (≈ 3 t) with 12 cm x 12 cm base plates evenness
Heating:
Warehouse heating: Gas fired radiant heaters, designed for temperatures up to 17° C
Office: Condensing boiler with heat pump, 20 ° C
Service area: window bands suitable for permanent workplaces, LED lighting
Green infrastructure: charging stations for electric vehicles
Biodiversity: Renaturation of the Westerbach stream, creation of a natural floodplain, beehives, bird nesting holes and insect hotels
Wellbeing: seating areas in green surroundings
DGNB Gold certified
Site Plan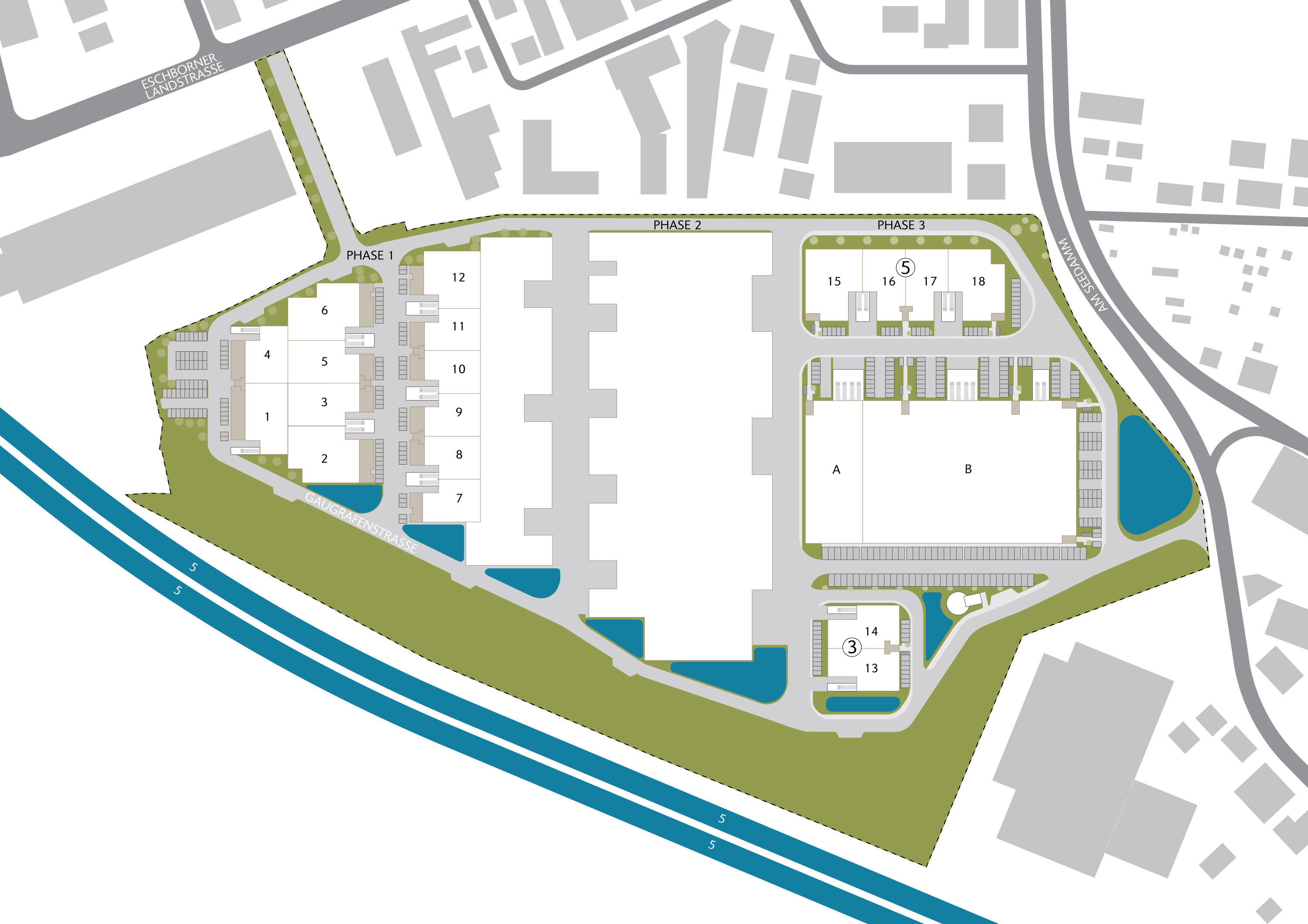 Contact