SEGRO Logistics Park Saint-Ouen-l'Aumone
Recent logistics complex of approximately 90,000 m²
Located 35 minutes from Paris
Excellent service with quick access to the A15 and A115;
close to the N1084 and the N104.
Close to Cergy-Préfecture (RER A), Liesse (RER C) and Saint-Ouen-l'Aumône (line H) stations
Approximately 90,000 m2 spread over 3 buildings
Above
o Aerial view of the SEGRO Logistics Park Saint-Ouen-l'Aumône and its 3 independent buildings, in the heart of the ZAC des Béthunes.
A strategic location for logistics in the northwest quarter of Île-de-France
SEGRO LOGISTICS PARK SAINT-OUEN-L'AUMÔNE is a 90,000 m² building complex comprising three buildings. Located in the heart of the ZAC des Béthunes, this logistics park is ideally located near various roads and motorways.
Located on the northwestern outskirts of the Paris conurbation, the site enjoys a privileged location: directly accessible by the A15, A115 and Francilienne, this park is located 40 km from Roissy-Charles de Gaulle. It also benefits from excellent public transport links, in particular the RER C (Liesse) and RER A (Cergy-Préfecture) lines.
An environment conducive to the well-being of employees
The ZAC des Béthunes is recent and has many advantages for the companies established there, with the presence of an RIE, hotels and an GIE which offer a quality working environment.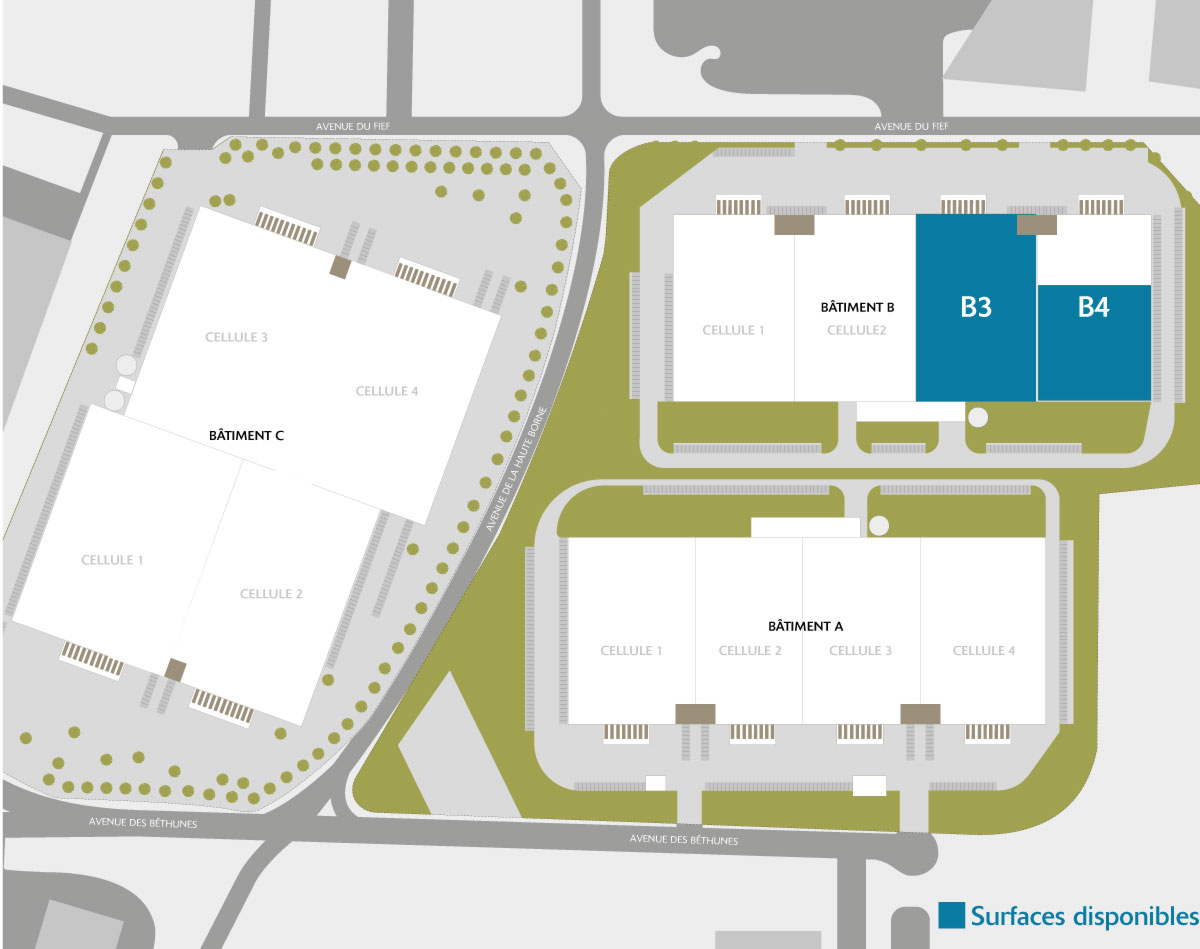 Technical characteristics
General characteristics of warehouses
Concrete structure
Concrete paving for an operating load of 5 T / m²
Double-skin horizontal metal cladding
Free height under farm in the current part activity / storage: 12 m min.
2.70 x 3.20 m insulated sectional doors with docks equipped with retractable dock shelter and hydraulic leveler
One electric level door per cell (4.00 x 4.70 m)
Heating by hot water unit heaters and natural gas boilers
LED lighting
BREEAM "Very Good" certification
ICPE: 1510 (Authorization) - 2925 (Declaration)
Offices & social premises
Concrete paving for offices allowing an overload of 350 kg / m²
LED lighting
Free height under suspended ceiling of 2.50 m
Equipped offices: carpet upstairs, tiled floor or plastic floor on the ground floor
Insulating lining of facades and partitions.