An urban distribution space in the 19th arrondissement of Paris
Quick access to the ring road, the A1 and the A86
17 minutes from Le Bourget airport and 30 minutes from Roissy-CDG airport
Approximately 1,000 m², including 200 m² of offices
An urban distribution space at the heart of the first mixed zero-carbon project in Paris
Winner of the "Reinventing Paris 1" call for projects, the Îlot Fertile program is a large-scale mixed operation extending over 1.3 hectares in the 19th arrondissement of Paris, a dynamic district in full development, and constitutes the very first zero carbon district of the capital.
An exceptional location
The SEGRO Center Paris 19 enjoys a rare location, in inner Paris. This of course allows quick access to the ring road via Porte d'Aubervilliers, but also to the motorways it connects, starting with the A1 and the A86 located 10 minutes from the site.
This privileged location is also close to Parisian public transport: the RER E (Rosa Parks), the T3b tramway, metro line 7 (Crimée & Corentin Cariou), as well as the 5 bus lines (35, 45, 54, 60, 239).
Above
Aerial view of the SEGRO Center Paris 19, at the heart of the "Îlot Fertile" site in the 19th arrondissement of Paris
Technical characteristics
Global characteristics
At the heart of the Îlot Fertile mixed project
Carbon neutral
Unloading area accessible to 19T carriers
Concierge, Click & Collect
Carbon-free intramural delivery (soft mobility)
Logistic spaces
Current free height: 3.45 m
Free access height 19 t: 4.00 m
Heavy roads for maneuvering and circulation area
Raw concrete slab: 1 T/m²
3 motorized single-level sectional doors 6.00 x 3.45 m for 3.5 t vehicles
1 motorized single-storey sectional door 6.00 x 4.00 m for 19 t vehicles
Secure access by an entrance gate communicating by intercom
150 lux LED lighting
Electric power: yellow tariff 150 KVa (240 KVa max.)
Social premises & offices
5th category ERP classification with a max. 15 people
Independent entrance on pedestrian path (can receive an access control system)
Floor 500 kg/m²
Painted walls, floor coverings (flexible & tiles)
Sanitary M/F Disabled people
Reversible climate control
Free height: 2.7 m under ceiling
Direct communication with the activity area via a staircase
Delivered in open-space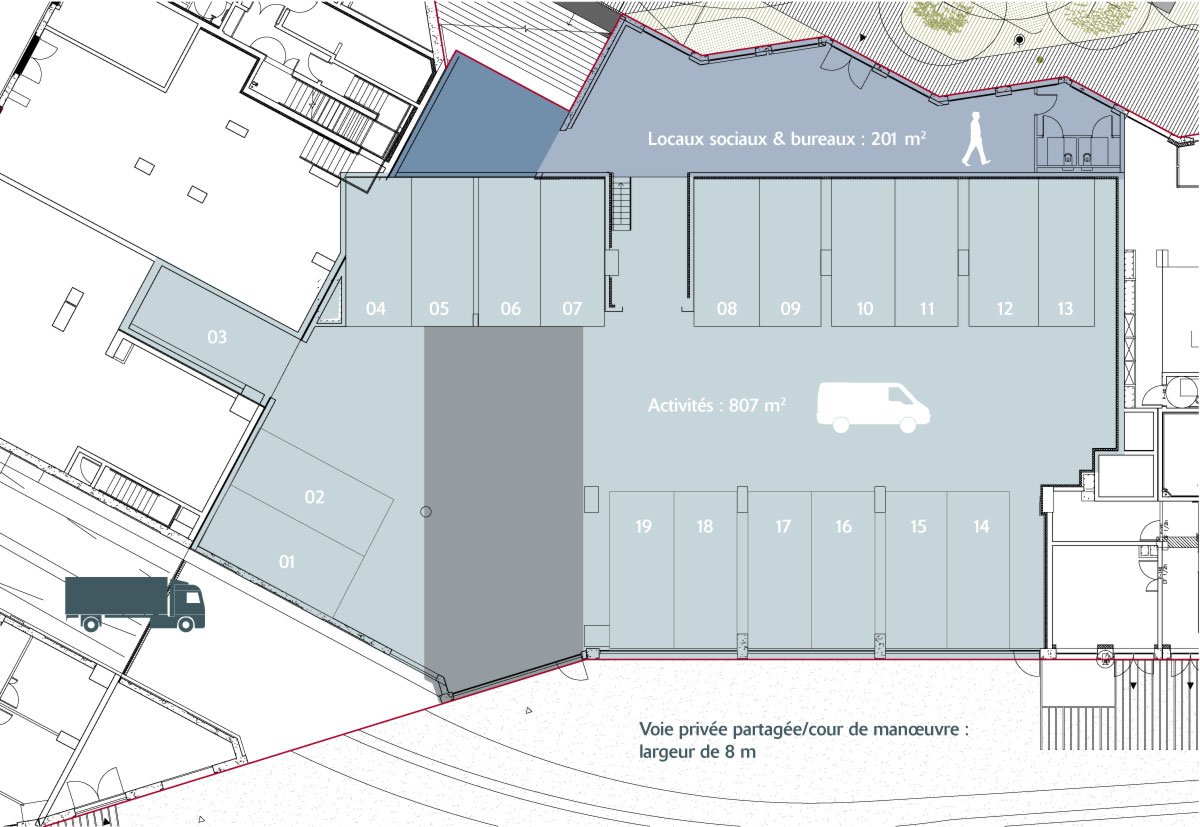 Above
Particular attention paid to the development of green spaces in order to integrate better into the life of the neighborhood and to promote the well-being of employees in their workplace.
Above
The "Îlot Fertile" project is an example of real estate renewal in Paris