State-of-the-art SEGRO Park next to the Ingolstadt automotive industry
SEGRO Park Ingolstadt is the first urban SEGRO multi-tentant Park in southern Germany. The area with a total of 30,600 square meters of rental space comprises three warehouse complexes. Two properties for urban logistics solutions with a clear height of eight meters and a light industrial property with a clear height of 6.5 meters and a larger proportion of office and service space. This mix is interesting for users from a wide variety of industries: from production to logistics and the associated storage to showrooms and leisure activities.
The new SEGRO Park was built according to modern standards for sustainable, ecological and energy-conscious construction. Various sustainable measures are used in the buildings, such as green roofs, charging stations for electric vehicles, photovoltaics for green electricity and intelligent LED lighting systems.
The park is centrally located in the heart of Bavaria, in the "InterPark" industrial area, with a direct connection to the B 16a federal road and the A9 motorway and offers ideal connections to the greater Munich area and to the automotive location Ingolstadt, where the AUDI plant and more than 100 other automotive suppliers and development partners are located.
The new rental units from 2,500 square meters are ready for occupancy with immediate effect.
Specification
Warehouse height: 8 m clear height (building 1 and 2), 6.5 m clear height (building 3)
Roof: Sheet insulated roof with heat insulation and partially green roof according to valid EnEV
Windows: Aluminium windows with double glazing
Warehouse floor: Reinforced concrete floor with joint-free hard aggregate spread. Designed for maximum permitted forklift loads of 50 kN (≈5 t) overall weight and concentrated loads of racking posts of 25 kN (≈ 2.5 t) with 100 cm/30 cm/100 cm distance between columns and 15 cm x 15 cm base plates evenness
Heating: Radiant tube heaters, designed for room temperatures up to 17° C (warehouse) / 20° C (offices/social rooms)
Service area: Window bands, suitable for permanent workplaces, LED lighting
Aiming for DGNB Gold certification
Green electricity through photovoltaic system
Green infrastructure: charging stations for electric vehicles
Green roofs (partially)
Biodiversity: Beehives, bird nesting holes and insect hotels
Intelligent LED lighting systems
Aiming for DGNB Gold
Site Plan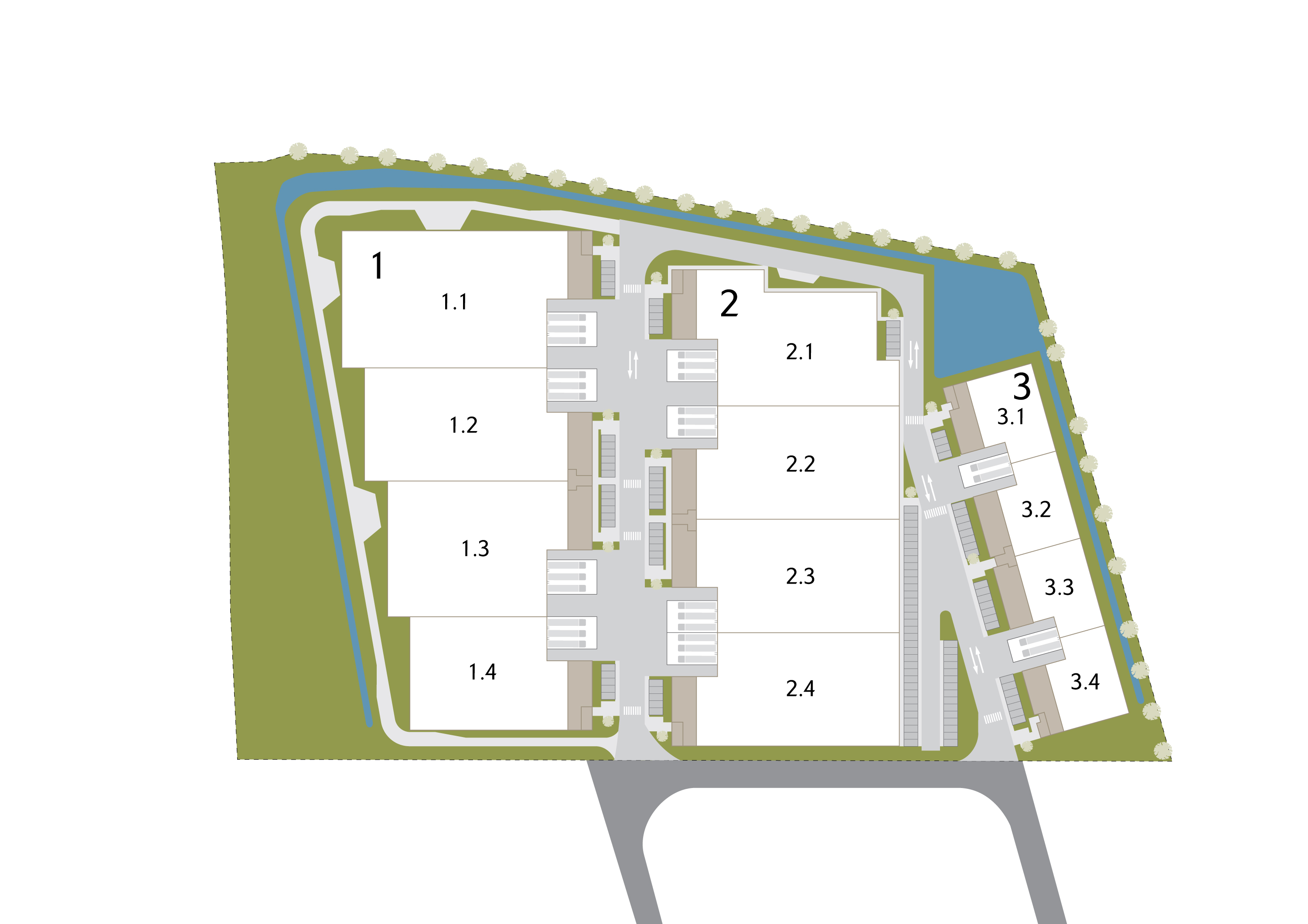 Contact