SEGRO Logistics Park Oberhausen
Sustainable & climate positive logistics space in Oberhausen
The state-of-the-art SEGRO Logistics Park Oberhausen is a relatively young revitalisation project on a former colliery site with three construction phases. Construction of the third and final construction phase with a total of 50,200 square meters of logistics, mezzanine and office space has been completed in summer 2022. The speculative development has been built according to the latest standards for sustainable, ecological and energy-conscious building. The building envelope is of high quality and insulated according to the latest standards and meets the requirements of the KfW building standard "Efficiency House Level 40". The new property also supplies the green electricity itself - a photovoltaic system is currently being installed over the entire roof area. Phase 3 is the first property in Germany that SEGRO strives to be awarded with the sustainability certificates DGNB Platinum and DGNB Climate Positive.
The well-being of our tenants in their work environment is also important to us: we therefore attach great importance to a lot of natural daylight and also offer seating in green surroundings.
With the completion of the final phase, the Oberhausen logistics park has now a total of around 120,000 square meters of warehouse space on a total area of 21 hectares, located in the immediate vicinity of an existing SEGRO logistics centre.
Due to the very good transport links to the motorway interchange Oberhausen (A 2 / A 3) and the Duisburg inland port, the site is ideal for manufacturing as well as for distribution and fulfillment.
Click on the virtual tour below to get an impression of SEGRO Logistics Park Oberhausen. From August 2022, a total of 50,200 square metres of sustainable and climate positive logistics space will be available there. The central location in the middle of the Ruhr area offers a perfect connection to the Duisburg harbor and the Oberhausen motorway junction (A2 / A3).
Specification
Warehouse height: 12 m clear height
Sheet insulated roof with insulation according to GEG (German Buildings Energy Act)
Aluminium windows with triple insulated glazing
Reinforced concrete floor, joint-free. Designed for maximum permitted forklift loads of 50 kN (≈ 5 t), flatness tolerances according to DIN 18202, table 3, line 4
Heating (district heating): designed for room temperatures up to 17° C (warehouse) / 20° C (offices/social rooms)
LED lighting (interior and exterior)
Standard office configuration: Space divided according to tenants' wishes, floor cable ducting (including electrical cabling, without data processing/IT cabling), suspended ceiling with integrated LED lighting, external sunlight protection (optional area cooling)
Green electricity through photovoltaic system
Green infrastructure: 24 charging points for electric vehicles (EV)
Efficiency house level 40: High-quality insulated building envelope according to the latest standard
Aiming for DGNB Platinum and DGNB Climate Positive
Green landscaping
Enhanced biodiversity
Amenity space with outdoor seating areas and sports facilities
Site Plan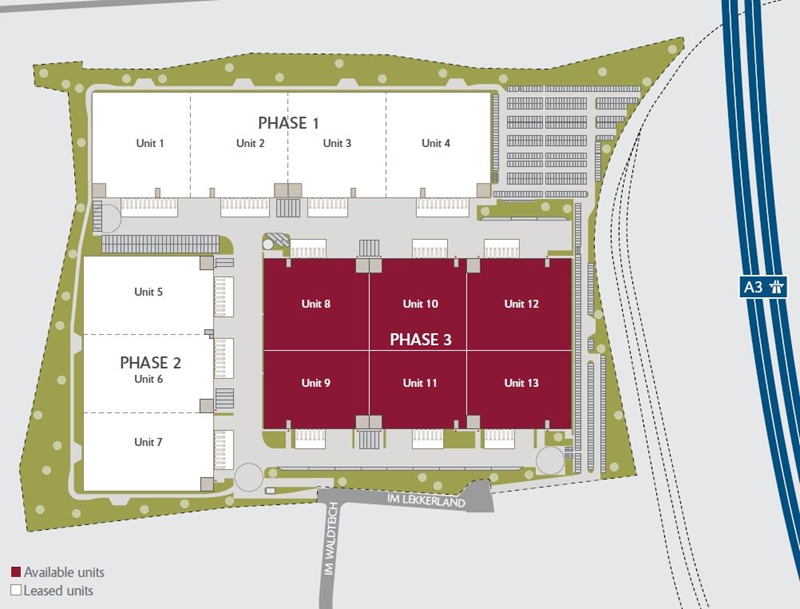 Live Webcam Photovoltaic Installation
Contact