SEGRO Park Carré des Aviateurs Le Blanc-Mesnil
Recent business park of approximately 35,000 m²
In the immediate vicinity of Le Bourget airport, 15min from the airport of Roissy Charles-de-Gaulle airport and Paris
Excellent service with immediate access to the A1 (Paris-Lille), the A86 and the N2
Approximately 35,000 m2 (10 buildings)
An ideal location for a business park
The SEGRO Park Carré des Aviateurs Le Blanc-Mesnil is a property complex of approximately 35,000 m² located in the heart of Blanc-Mesnil. Composed of 10 independent buildings, it is close to one of the main logistics hubs in Île-de-France: Roissy-Charles de Gaulle.
In the immediate vicinity of Le Bourget airport and 20 min. from Paris, it enjoys excellent service, with its independent maneuvering areas offering, in particular, immediate access to the A1 and A86 motorways.
Safety and eco-responsibility
Closed and monitored 24 hours a day, the park also benefits from a particular interest in green spaces and a more eco-responsible design: recovery of rainwater and energy sobriety.
Above
Aerial view of the SEGRO Park Carré des Aviateurs Le Blanc-Mesnil, a few minutes from Roissy Charles-de-Gaulle airport
Technical characteristics
Above
Signage, including totems at the entrance, is installed.
Exterior features
Fully enclosed site
Independent security PC with 24/365 security service
24-hour video surveillance and all-night pedestrian patrols
Signage (totems at the entrance and at each building)
Landscaped green spaces
Exterior lighting by halogen projector
ACTIVITY
Free height under purlins: 7 m
Treated concrete slab: 3T / m²
One-level sectional doors and one-level ramp
Dock for private dumpster
Thermostat-controlled gas heater
OFFICES
Free height: 2.60 m under suspended mineral fiber ceiling
Lighting by recessed low-luminance fluorescent luminaires
Flooring: carpet tiles
Heating by electric convectors
Ventilation by single-flow mechanical extractor
Insulating facade lining
Lighting and strong current only in peripheral plinths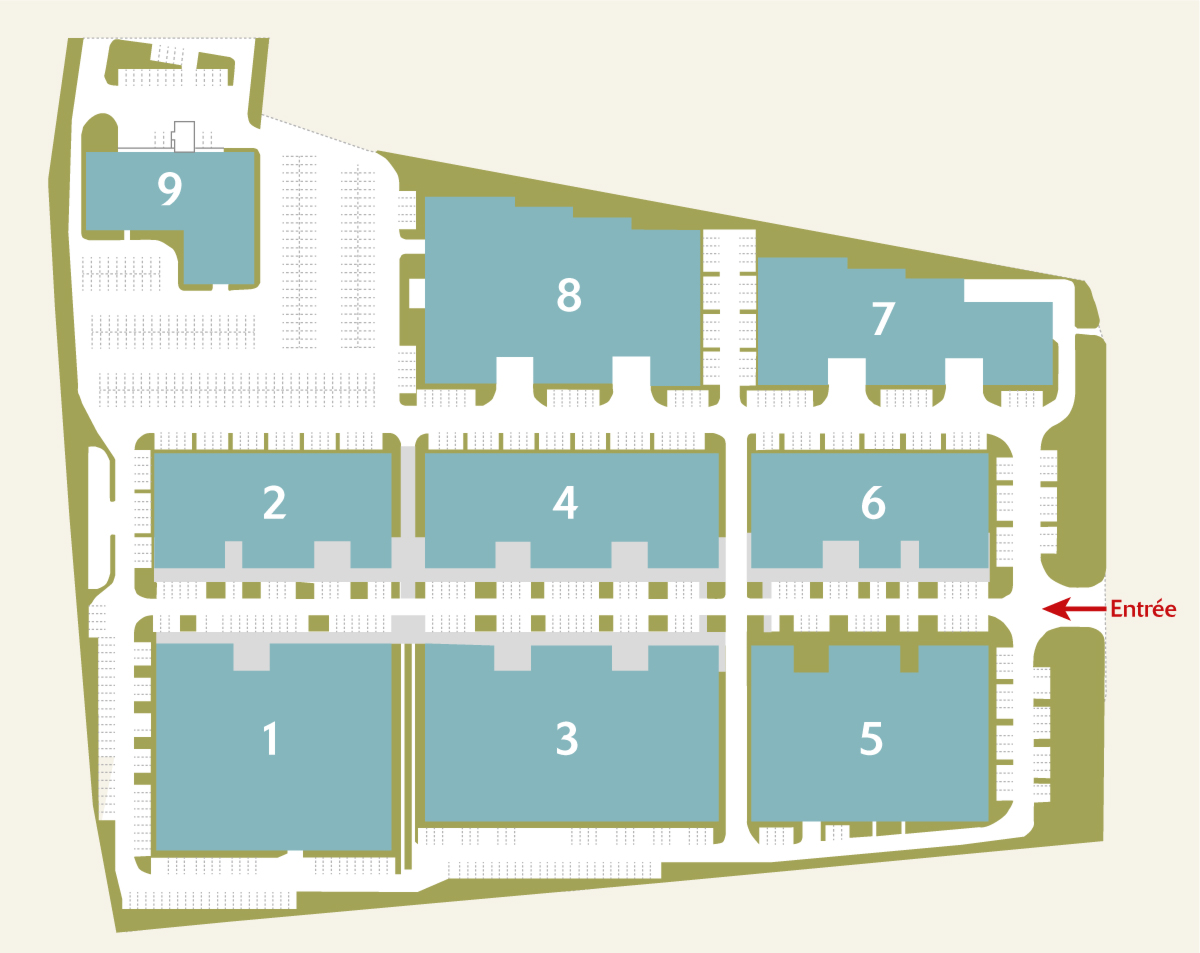 Above
Several facilities have been chosen to make the place pleasant, in particular wooded green spaces and bicycle parking spaces.
Above
The light road system has been developed to facilitate parking and public circulation.