Summary
NW5
NW5 3BA, KENTISH TOWN
A ONE-OF-A-KIND INDUSTRIAL SPACE:
CENTRAL LONDON'S MOST SUSTAINABLE AND PROGRESSIVE REFURBISHMENT.
SEGRO is delighted to share its plans to refurbish a dilapidated 22,000 sq ft industrial unit at 3-6 Spring Place, Camden, to bring it back into economic use.
---
A REINVENTION THAT
EXCEEDS ALL EXPECTATIONS
---
MAKE LONDON

YOUR OWN
The Location
More than just a cutting-edge, highly sustainable warehouse space, SEGRO Centre Kentish Town's Zone 2 location offers seamless links to Camden, central London, and the rest of the capital, unlocking true industrial agility on a rare scale. SEGRO Centre Kentish Town is the ideal space for a forward-thinking business that needs a progressive location to take its operations to the next level.
| | | |
| --- | --- | --- |
| Kentish Town West  | 0.3 miles | 2 min |
| Kentish Town Railway  | 0.4 miles | 3 min |
| A1 | 1.7 miles | 8 min |
| City of London | 4.3 miles | 16 min |
| M1 (J1) | 5.7 miles | 16 min |
| M25 (J24) | 11.4 miles | 26 min |
Source: Google Maps
| | |
| --- | --- |
| Kings Cross   | 7 min |
| Oxford Circus  | 3 min |
| Farringdon   | 10 min |
| St Paul's  | 14 min |
| Bank  | 16 min |
Source: Google Maps
| | |
| --- | --- |
| Kentish Town   | 8 min |
| Kentish Town West   | 6 min |
Source: Google Maps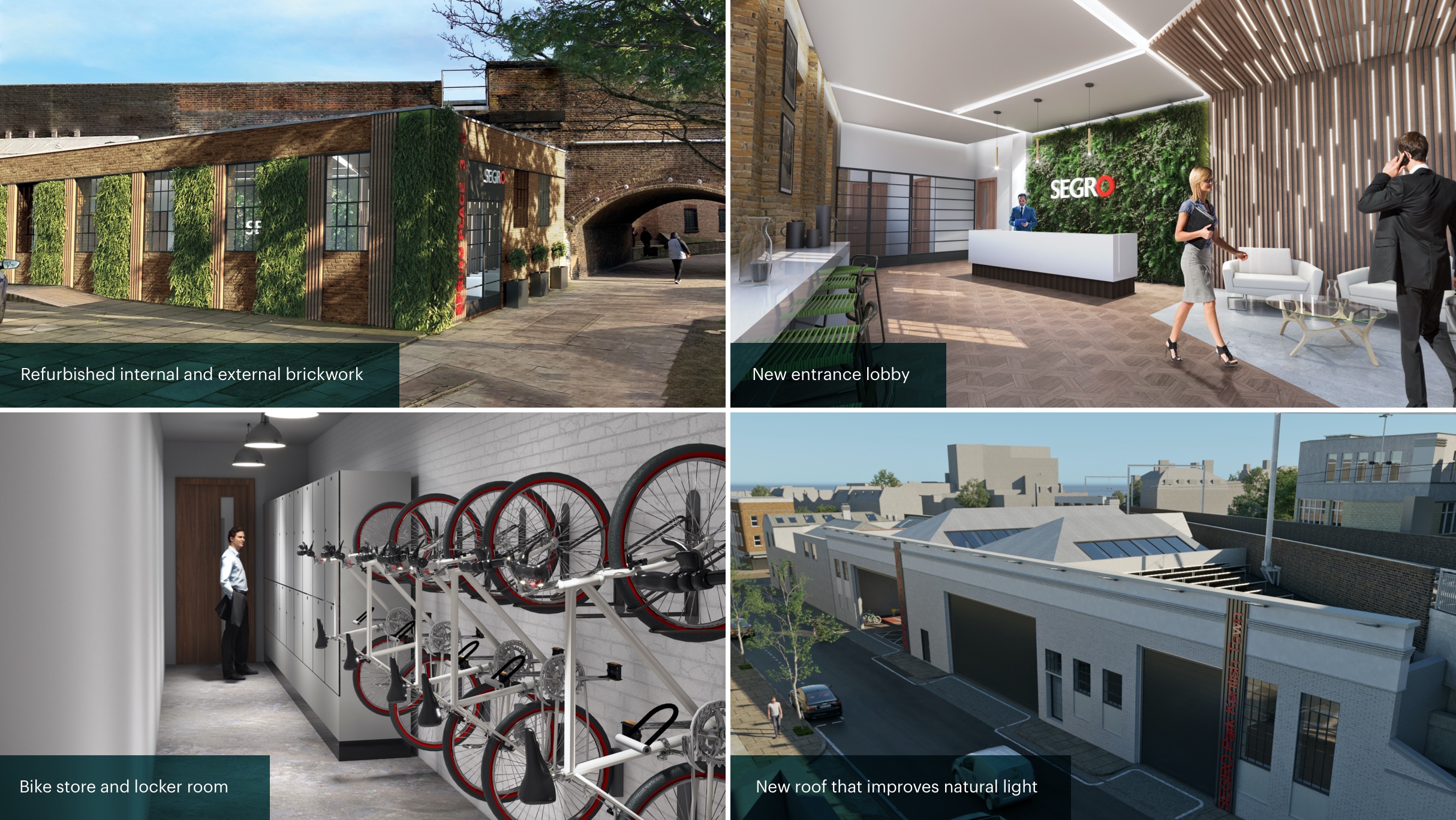 Above
Computer generated images of SEGRO Centre Kentish Town. Lobby image includes example customer fit-out.
---
INNOVATING TO MAKE AN
IMPACT ON OUR ENVIRONMENT
---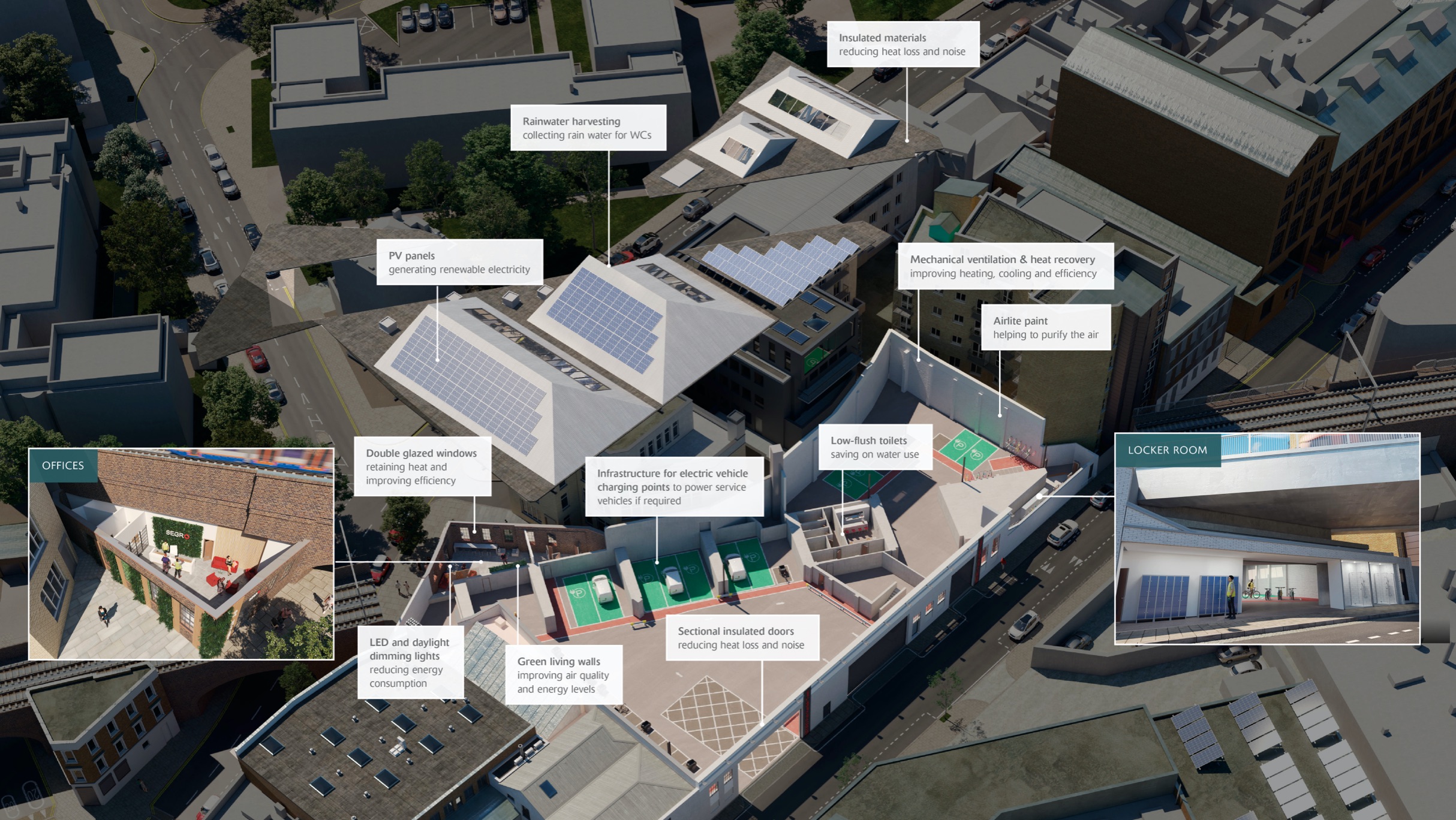 Above
Computer generated images of SEGRO Centre Kentish Town
SEGRO Centre Kentish Town is designed to facilitate more efficient, more sustainable warehouse operations, as well as the adoption of greener transportation. View more about Responsible SEGRO and our environmental targets. 

Innovative sustainable measures

SEGRO Centre Kentish Town will set a benchmark for sustainable and environmentally friendly space of this type in London by incorporating modern innovations such as LED lighting (60,000 hours of life), air purifying paint, electric car charging points and PV panels.

Benchmark environmental standards

SEGRO Centre Kentish Town will achieve: EPC A+ / Carbon Zero / BREEAM 'Outstanding'.

Renewable energy

Photovoltaic panels that generate electricity from the sun will produce enough renewable electricity to power the unit – the equivalent of 9.5 average households each day or saving the amount of carbon saved by 306 new trees.

Reducing air pollution

Internal and external green living walls will extract harmful gases from the atmosphere, such as Nitrogen Dioxide, allowing for cleaner air to circulate.

Supporting Transport Electricfication

With the future of transport changing, SEGRO Centre Kentish Town will provide state-of-the-art infrastructure to support electric vehicle charging points and encourage the use of electric fleets.

Rainwater Harvesting

Modern rainwater harvesting technology will be used to collect and supply water to facilities such as the toilets, to act as a natural and renewable source and reduce the site's impact on Camden's water supplies.

Walking and cycling to work

London is one of the world's best cities for active commutes, and modern facilities, cycle racks and a locker room will be installed to encourage employees to cycle, run and walk to work.
---
IMAGINATIVE SPACE THAT FLEXES
FOR BUSINESS NEEDS
---
SEGRO Centre Kentish Town is designed with flexibility at its core. Its high-specification warehouse spaces can be easily adapted to suit a range of industrial business needs, and ancillary facilities and amenities make it a full-service solution for the long term.
Building specification
Four level-access loading doors
5.45m clear height
8.98m clear ridge height
50 kN/m2 floor loading
450 kVA
LED warehouse lighting
Skylights for natural light
Fitted Cat A offices
Staff amenities including WC, shower rooms, lockers and bike store
Suitable for B2 use 
The property is suitable for B2 industrial use. Any other use would require a planning application.
| | | |
| --- | --- | --- |
| Accommodation | sq ft | sq m |
| Warehouse | 17,624 sq ft | 1,637 sq m |
| Office | 1,947 sq ft | 181 sq m |
| Ancillary | 2,339 sq ft | 217 sq m |
| Total | 21,910 sq ft | 2,035.5 sq m |
(All areas are approximate and measured on a Gross External basis. A final survey will be carried out post-refurbishment.)
Indicative floor layout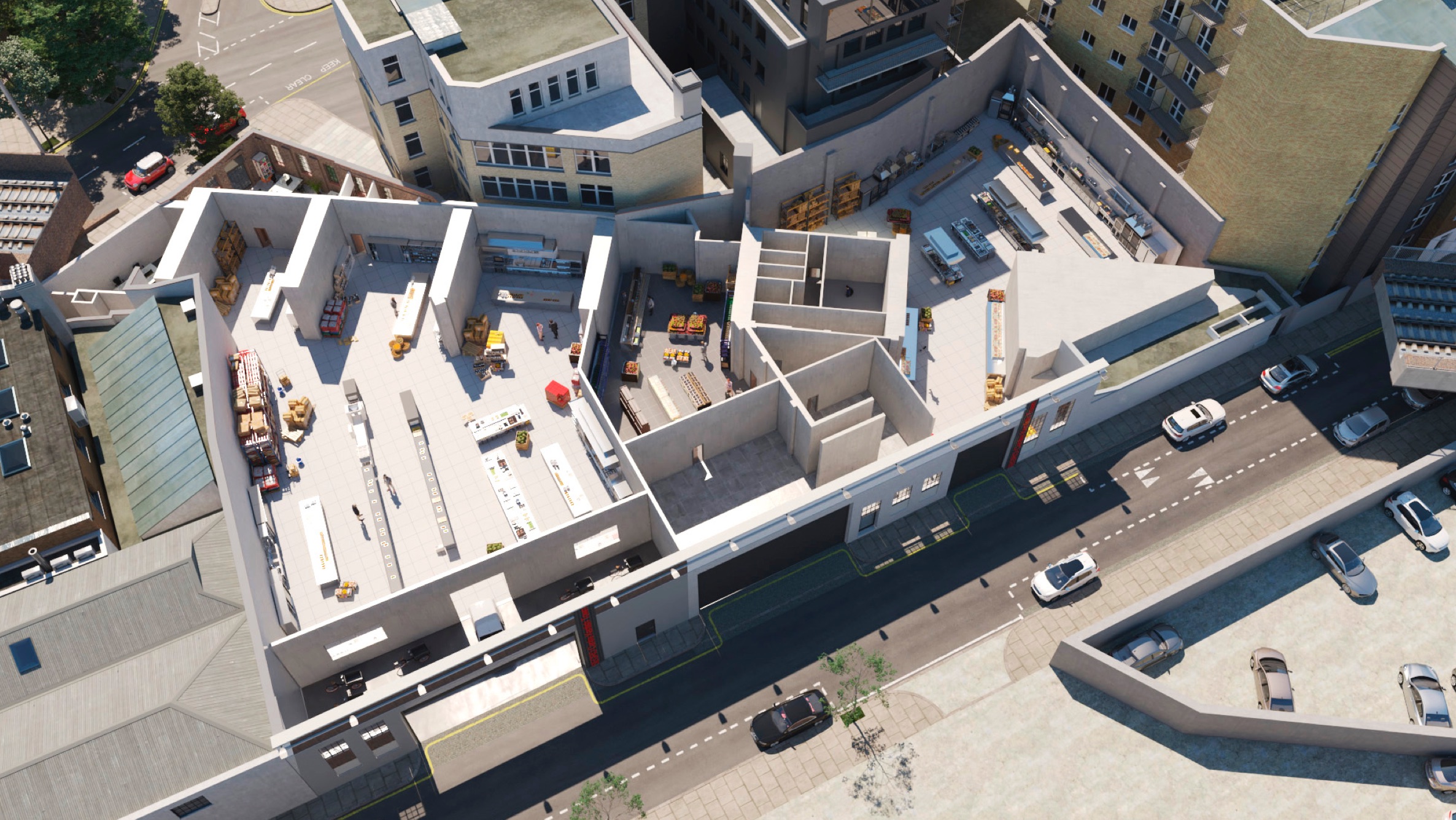 Above
Computer generated images of SEGRO Centre Kentish Town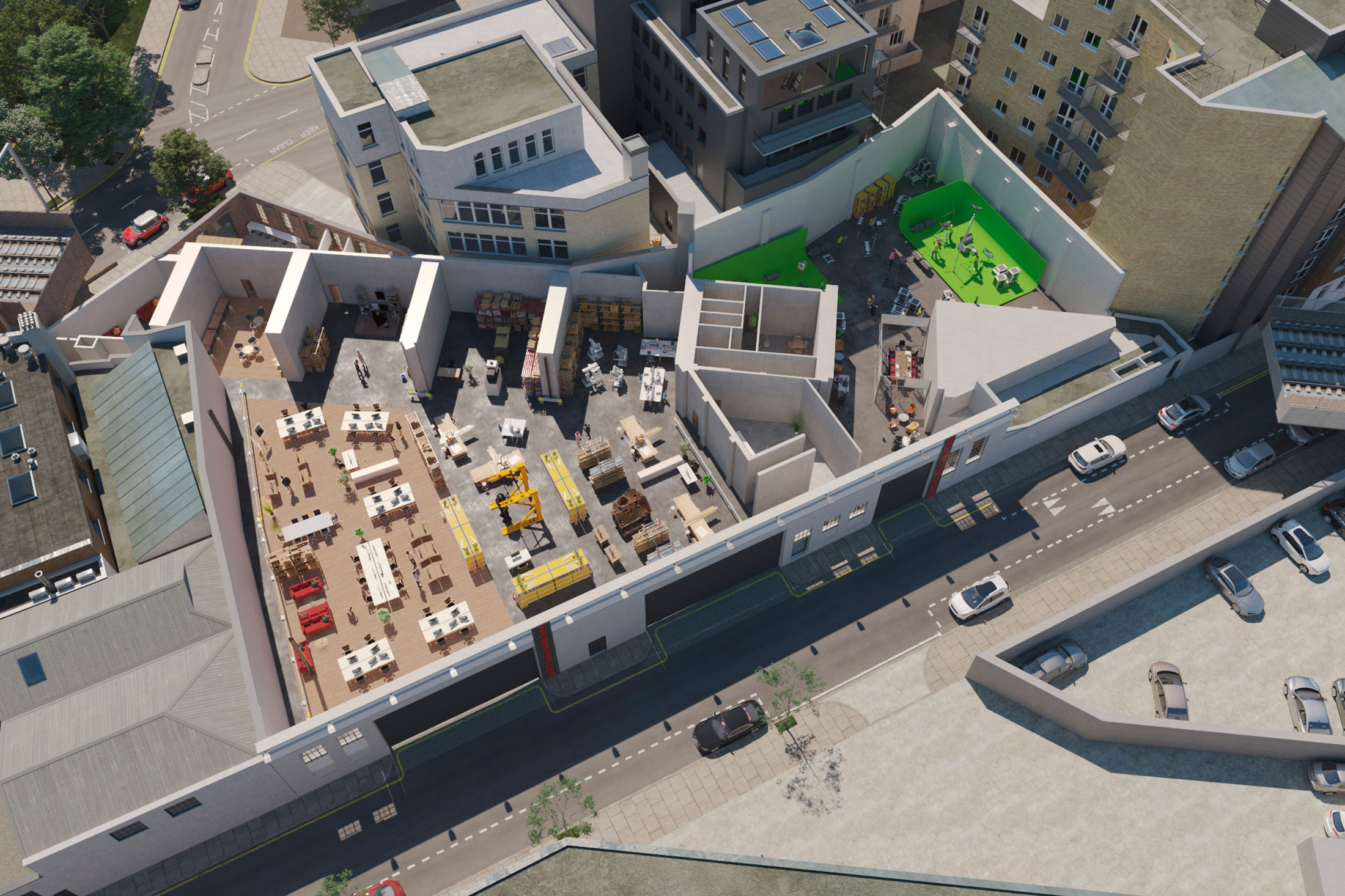 Above
Computer generated images of SEGRO Centre Kentish Town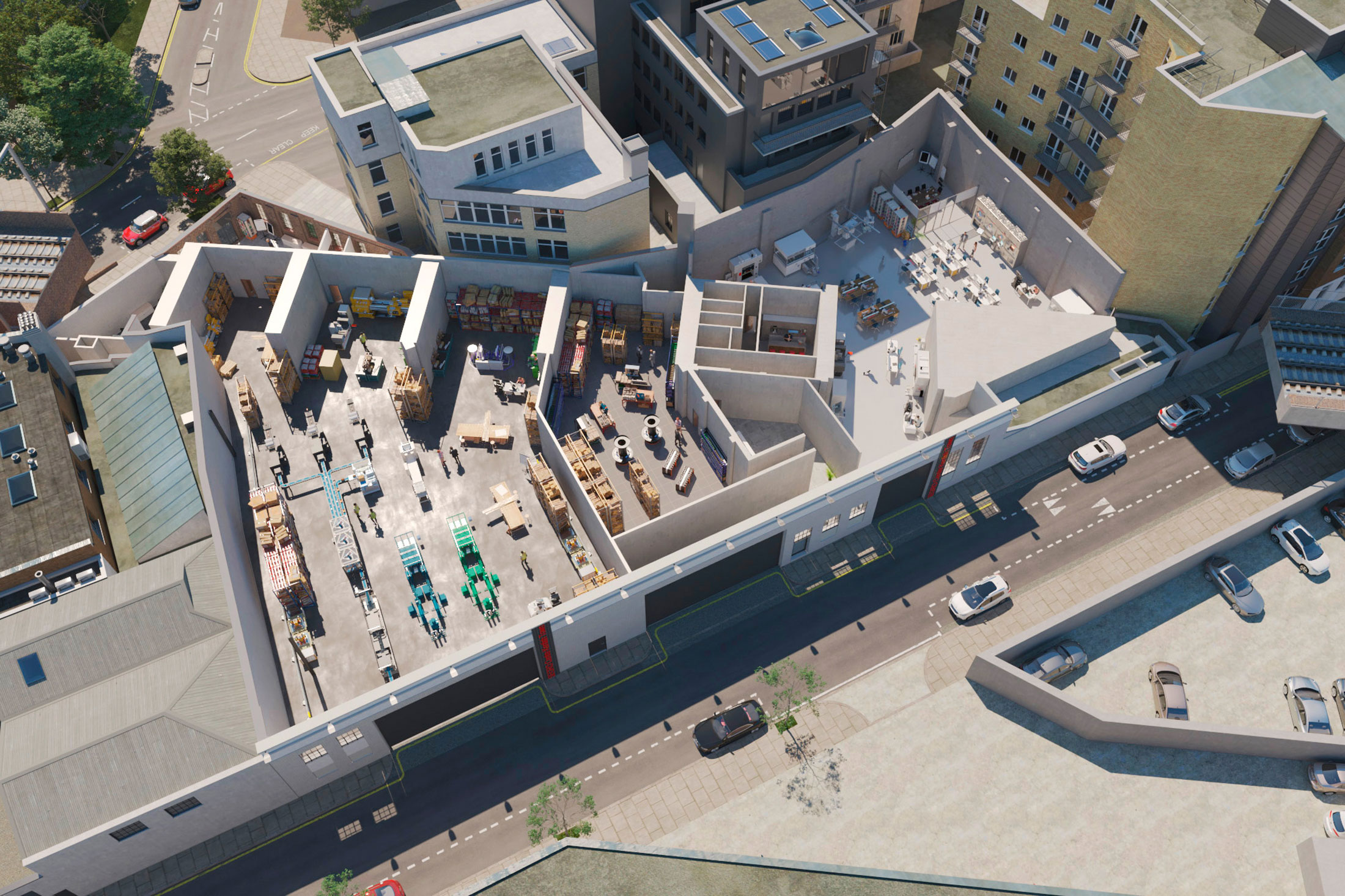 Above
Computer generated images of SEGRO Centre Kentish Town
Employee Wellbeing
LIVING, BREATHING SPACE TO THINK


SEGRO is a member of the International WELL Building Institute and a founding member of the UK Green Building Council. As such, we've put the health and wellness of our customers, and their teams, at the heart of this building's design and refurbishment.
Considerable thought has gone into the site's wellness facilities and how they create a pleasant working environment. Modern facilities including showers and changing rooms will be available for employee use. Living green walls internally and externally will improve air quality and promote wellbeing, while intelligent heating and cooling systems provide optimal comfort.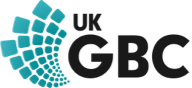 SEGRO as a landlord
HAPPILY EVER AFTERCARE


By working closely with local stakeholders, SEGRO enables businesses to thrive.
Future-proofing new buildings and providing ongoing support and access to training and recruitment opportunities meets the changing needs of customers. And our personal approach ensures we're always asking questions to better understand those needs.
Customer service
All customers benefit from a dedicated Asset Management and Property Management team, a relationship that adds real value to your business. SEGRO is committed to providing on-going support for customers through high-quality service standards, flexibility and innovative property solutions.
Employment & training
SEGRO's Partnership Development Team works with customers to understand their recruitment needs and, through a network of partners, can help customers to access a local talented workforce as well as training providers.
Our community
Developing training and employment opportunities
We work hard to make sure that our buildings and estates, which are often situated in or close to residential areas, are valued by the local community, in particular as local employment hubs.
Careers
Working with our customers to support our local economies
We use our convening power to bring together our customers, neighbourhood contractors and suppliers, local authority partners and community groups.
Communities
Improving the local environment, beyond our spaces
We are committed to identifying and investing in projects aimed at enhancing the space around our buildings.
Responsible SEGRO