SEGRO Logistics Centre Tilburg III
State-of-the-art SEGRO Logistics Centre
SEGRO Logistics Centre Tilburg III is perfectly positioned in one of the bigger logistics hotspots of the Benelux, with specific focus on e-fulfilment.
Together with SEGRO´s 2 other Logistics Centres in Tilburg it is creating a thriving business community, bringing together the ideal working environment and optimal infrastructure for businesses to succeed.
The Logistics Centre is situated in the industrial zone Vossenberg West II, which is easily accessible by road and canal. Highway A58 Breda / Eindhoven is one of the main transportation highways in western Europe. The Wilhelmina canal plays an important role in water-based transport in the Netherlands, as it connects the Port of Rotterdam with the industrial city of Tilburg.
Warehouse
Column grid, 24x12m
Floor load, 50 kN/m2
Free height, 12.20m
Loading docks, 1 per 1,000 sq m
Ground floor overhead door, 1 per 5,000 sq m
Mezzanine space above the expedition area, 8 kN/sq m
ESFR- sprinkler system
Lighting, 150 lux between rack corridors, 250 lux expedition area and 400 lux offices
Heating, warehouse 10°C, offices 21°C
Site plan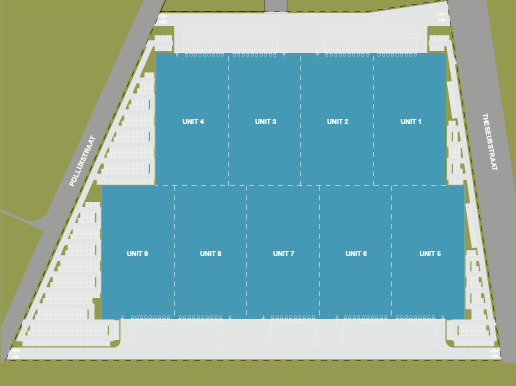 Contact